Grenzen.Gänge.Zwischen.Welten.
Kontroversen – Entwicklungen – Perspektiven der Inklusionsforschung

| | | |
| --- | --- | --- |
| dc.contributor.editor | Schimek, Bernhard | |
| dc.contributor.editor | Kremsner, Gertraud | |
| dc.contributor.editor | Proyer, Michelle | |
| dc.contributor.editor | Grubich, Rainer | |
| dc.contributor.editor | Paudel, Florentine | |
| dc.contributor.editor | Grubich-Müller, Regina | |
| dc.date.accessioned | 2022-01-20T11:26:02Z | |
| dc.date.available | 2022-01-20T11:26:02Z | |
| dc.date.issued | 2021 | |
| dc.identifier.uri | https://library.oapen.org/handle/20.500.12657/52515 | |
| dc.description.abstract | The thematic anthology is based on the conception of the 'IFO2020' in Vienna – the 34th annual conference of inclusion researchers – and represents the attempt to present in a bundled form the questions and discussions that have begun around this conference, have been further developed, or perhaps even emerged in this context in the first place. In keeping with the theme of the volume, inclusion research itself necessarily becomes the focus of debate when its inherent controversies, perspectives, and developments are discussed. This results, among other things, in references to empirical, theoretical, and paradigmatic orientations of inclusion, interdisciplinary associations, critiques of both pedagogical and (one's own) academic practice, intersectional interweavings, or even voids that remain open to discussion. | en_US |
| dc.language | German | en_US |
| dc.subject.classification | bic Book Industry Communication::J Society & social sciences::JN Education::JNF Educational strategies & policy::JNFN Inclusive education / mainstreaming | en_US |
| dc.subject.other | Inklusion, Forschung, Sonderpädagogik, Interdisziplinäre Forschung, Interdisziplinarität, Theorie, Dialektik, Methode, Theorie-Praxis-Beziehung, Berufspädagogik, Berufsorientierung, Körperbehinderung, Arbeitsmarkt, Musizieren, Musikunterricht, Befreiungspädagogik, Medienpädagogik, Künstliche Intelligenz, Digitale Medien, Mediennutzung, Unterricht, Integrative Schule, Integrative Pädagogik, Finanzierung, Flüchtling, Flucht, Migration, Migrationsforschung, Exklusion, Helfen, Schüler, Schülerperspektive, Lehrer, Lehrerbildung, Lehrerausbildung, Professionalisierung, Lehramtsstudiengang, Primarbereich, Grundschule, Unterrichtsmaterial, Macht, Hochschule, Hochschullehre, Hochschuldidaktik, Kunstunterricht, Sportunterricht, Heterogenität, Kompetenzentwicklung, Geistige Behinderung, Erwachsenenbildung, Interviewtechnik, Kooperation, Partizipation, Reflexion <Phil>, Forschendes Lernen, Pädagogische Diagnostik, Subjektive Theorie, Hochschullehrer, Selbsteinschätzung, Unterrichtsstörung, Verhaltensauffälligkeit, Kooperatives Lernen, Technikunterricht, Empirische Untersuchung, Interview, Projekt, Forschungsprojekt, Fragebogenerhebung, Vignette <Methode>, Explorative Studie, Internationaler Vergleich, Tagungsbericht, Deutschland, Österreich, Dänemark, Großbritannien, Italien, Kanada, Inclusion, Research, Remedial instruction sciences, Special education for the handicapped, Special needs education, Interdisciplinary research, Interdisciplinarity, Theory, Dialectics, Method, Theory Practice Relationship, Vocational pedagogics, Occupational orientation, Physical handicap, Labor market, Labour Market, Music reading, Music lessons, Teaching of music, Pedagogy of liberation, Media education, Media pedagogics, Artificial intelligence, Utilisation of media, Utilization of media, Teaching, Inclusive education, Inclusive school, Integrative education, Financing, Funding, Refugee, Flight, Running away, Migrant research, Pupil, Pupils, Teacher, Teacher education, Teachers' training, Teacher training, Professionalization, Preservice Teacher Education, Primary education, Primary level, Elementary School, Primary school, Primary school lower level, Power, Higher education institute, Higher education lecturing, University lecturing, University teaching, University didactics, Art education, Education in sports, Physical education, Physical training, Heterogeneity, Skill development, Oligophrenia, Adult education, Adult training, Interviews, Cooperation, Pedagogical diagnostics, Higher education lecturer, Higher education teacher, University teacher, University-teachers, Self-rating, Cooperative learning, Instruction in engineering, Teaching of basic technology, Empirical study, Project, Projects (Learning Activities), Questionnaire survey, Cross-national comparison, International comparison, Proceedings, Germany, Austria, Denmark, United Kingdom, Italy, Canada | en_US |
| dc.title | Grenzen.Gänge.Zwischen.Welten. | en_US |
| dc.title.alternative | Kontroversen – Entwicklungen – Perspektiven der Inklusionsforschung | en_US |
| dc.type | book | |
| oapen.abstract.otherlanguage | Der thematische Sammelband beruht auf der Konzeption der 'IFO2020' in Wien – der 34. Jahrestagung der Inklusionsforscher*innen – und stellt den Versuch dar, die rund um diese Tagung begonnenen, weiterentwickelten oder vielleicht sogar in diesem Kontext überhaupt erst entstandenen Fragestellungen und Diskussionen gebündelt darzustellen. Ganz im Sinne der Themenstellung des Bandes gerät notwendigerweise die Inklusionsforschung selbst ins Zentrum der Auseinandersetzungen, wenn die ihr inhärenten Kontroversen, Perspektiven und Entwicklungen diskutiert werden. Daraus ergeben sich u.a. Hinweise auf empirische, theoretische und paradigmatische Ausrichtungen von Inklusion, interdisziplinäre Zusammenschlüsse, Kritik an der pädagogischen wie auch der (eigenen) akademischen Praxis, intersektionale Verwobenheiten oder auch Leerstellen, die zu diskutieren offen bleiben. | en_US |
| oapen.identifier.doi | 10.35468/5924 | en_US |
| oapen.relation.isPublishedBy | 9a084ee3-3f86-4be2-81d6-89c9fbc5f173 | en_US |
| oapen.relation.isbn | 9783781524859 | en_US |
| oapen.pages | 295 | en_US |
| oapen.place.publication | Bad Heilbrunn | en_US |

Files in this item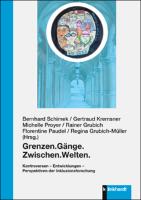 Name:

Klinkhardt_2021_Schimek_IFO.pdf

Size:

6.286Mb

Format:

PDF

ISBN:

9783781559240

License:

https://creativecommons.org/li ...

Webshop link:

https://www.klinkhardt.de/verl ...
This item appears in the following Collection(s)